08/04/2015
IMAGINATION/IDEA. The Beginning of Hungarian Conceptual Art. The László Beke Collection, 1971
Book launch and discussion
Time: April 8, 2015, 7 pm
Venue: Wiener Secession, Friedrichstraße 12, 1010, Vienna

Participants: Georg Schöllhammer (critic, curator, tranzit. at, Springerin, Vienna), László Beke (art historian, Budapest), and Dóra Hegyi (curator, tranzit.hu, Budapest)

The discussion will be in German.

In 1971, László Beke—the renowned Hungarian art historian and curator—sent out a call to artists to submit sheets following the concept: WORK = the DOCUMENTATION OF THE IMAGINATION/IDEA. This is how Beke's unique collection of Hungarian Conceptual art was created, which functioned for decades as a "Concept art exhibition par excellence," available for viewing only privately, in A4 folders. From the 2000s, however, IMAGINATION has been featured in several exhibitions, both in Hungary and internationally, and was published also as a book in itself. This comprehensive collection of Conceptual art, after its first edition in Hungarian (Budapest: Open Structures Society – tranzit. hu, 2008), is now published by tranzit. hu and JRP|Ringier as facsimiles with English translations, alongside Eszter Szakács's interview with László Beke, his essay describing the context of the project, and updated biographical data of the participants, among others Imre Bak, Miklós Erdély, György Jovánovics, Ilona Keserü, Dezső Korniss, László Lakner, Gyula Pauer, Géza Perneczky, Sándor Pinczehelyi, Tamás Szentjóby, and Endre Tót.
IMAGINATION/IDEA.The Beginning of Hungarian Conceptual Art. The László Beke Collection, 1971
Editors: The collection is edited by László Beke. The book is edited by Dóra Hegyi, Zsuzsa László, and Eszter Szakács

368 pages, color, 23,5 x 30 cm, English

Design: Zoltán Lonovics
Publisher: tranzit.hu - JRP|Ringier, 2014
ISBN/ISSN: 978-3-03764-318-1

Price: EUR 30

Image: Péter Türk: Black and White, page from the book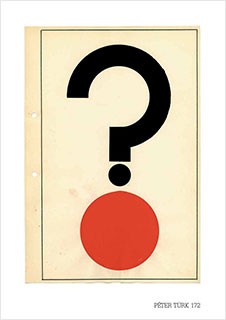 External Links
Wiener Secession