14/02/–14/04/2019
Polygon Creative Empire: Sissi Quartier
Exhibition in Bratislava
Venue: Kunsthalle LAB, Pozsony (Námestie SNP 12, 811 06 Bratislava)
Opening: February 14, 6-8 p.m.
On view: February 15-April 14, 2019.

The interdisciplinary group Polygon Creative Empire, artists Orsolya Bajusz and Virág Bogyó, the anthropologist Ágnes Patakfalvi-Czirják and the curator Kinga Lendeczki present their project Sissi Quartier at the Kunsthalle LAB in Bratislava. The project was first realized in the framework of the exhibition Stopover – Ways of Temporary Exchange, at the frei_raum Q21 exhibition space in MuseumsQuartier, Vienna in the Fall 2017, curated by Judit Angel, Christiane Erharter, Dóra Hegyi, Michaela Geboltsberger, and Heide Wihrheim.

In conceiving their project, Polygon Creative Empire proceeded logically according to the strategies of large corporations, which, on the basis of subjective decision and the demands of developing capitalism, attempt artificially to construct a new "region." The purpose of such places is to create a space for further profits by the investor, taking no account of local traditions or the genius loci of the particular place. The group explored the influence of capital on the transformation of geographical places and looked at what kind of economical mechanisms, social and cultural circumstances influence the construction of these "non-historical" regions.
For the realization of Sissi Quartier, the authors chose an existing region, the area between cities of Vienna, Bratislava, and Győr, which is called "the golden triangle" on account of its favorable geographical position. The project is a proposal for potential development of this area, where the process of regionalizing has never been fully completed yet, and is also a critique of the process itself; these investments are not planned primarily for the local inhabitants, but rather for tourists and visitors. The title of the fictional project bears the name of Empress Sissi, her figure became an idealized "pop icon" by now, an empty casing recalling the golden times of turn of the 19th century, thereby forgetting or consciously erasing her real life and political activities. Furthermore, the title of the project is also an allusion to the MuseumsQuartier in Vienna, where a number of public museums and galleries are located, and which also has been a focal point of interest for investors.

Curated by Judit Angel, Dóra Hegyi
Project management: Kinga Lendeczki



Polygon Creative Empire: Sissi Quartier, detail, installation at MQ Art Box, Vienna, 2017. Photo: Virág Bogyó.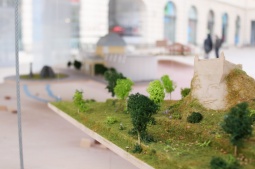 External Links
http://www.kunsthallebratislava.sk/en/event/sissi-quartier