19/07/–21/07/2013
COMMUNITY AIRING - The project of tranzit. hu at the Bánkitó Festival
Community cinema, reenacted history – Peter Watkins: La Commune (Paris, 1871)
Time: July 19-21, 2013, screenings with discussion forums
Venue: Bánkitó (Lake Bánk) Festival in Bánk, Nógrád county, the grass area in front of the Nádas camping, on the right side of the road to the railways station, opposite the large parking lot.

Community cinema, reenacted history: The Paris Commune from a contemporary perspective.

In 2000, in the outskirts of Paris, in an abandoned factory, English film director Peter Watkins reworked and reenacted the story of the 1871 Paris Commune, which is unfamiliar in its totality even to the French. Peter Watkins narrates the event, which has been interpreted in various ways throughout history, as if there had been television at that time, and the viewer would see a documentary film of the events from that period. The film still raises current and highly important issues, among others:

- How much can we trust the statements of the TV news and other scientific-educational shows?
- How can we initiate a public debate around this issue?
- How can the viewers be regarded as participants, and how can their political consciousness be allowed to freely unfold?

Organized by: tranzit. hu & co.
The five-and-a-half-hour long film will be screened on more occasions, from noon and from midnight each day, in French, with English subtitles. In the afternoon screenings, there will be public discussions around contemporary issues in Hungary as well.

Screenings with discussion forums:

July 19, 2013, 5 pm - 6:10 pm: The 2001 documentary The Universal Clock - The Resistance of Peter Watkins

July 20, 2013, 12 am - 7 pm : La Commune (Paris, 1871) (first part)
12 pm - 5:30 am: La Commune (Paris, 1871)

July 21, 2013, 12 am - 5 pm: La Commune (Paris, 1871) (second part)
12 pm - 5:30 am: La Commune (Paris, 1871)

The COMMUNITY AIRING project blog (In Hungarian)

Facebook event

Photo by Corinna Paltrinieri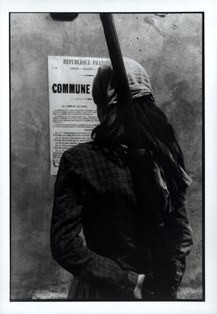 External Links
Bánkitó Festival 2013