28/07/2016
queering socialism / KAROL RADZISZEWSKI: KISIELAND
film screening & artist talk
Time: July 28, 2016, 6 pm
Venue: FKSE - Studio Gallery, 1077 Budapest, Rottenbiller utca 35.

The documentary film "Kisieland" by Karol Radziszewski, created in 2012, gives an insight into the intimate moments of Poland's gay subculture in the 1980s. The main character is Ryszar Kisiel, founder of Filo, the first gay zine in Poland that was distributed from hand to hand in the last years of socialism. The artist visited Kisiel at his home, where he came across a whole archive of photos documenting drag performances that a group of friends performed to each other in a private apartment. The pictures, as we learn, had been taken at the time of the state police crackdown on homosexuals, known as campaign "Hiacynth", between 1985 and 1986, and as such, they may be considered as a form of resistance against the Polish authorities. The documentary film evokes stories that happened 25 years earlier, as Radziszewski asks Kisiel to re-enact these performances with the assistance of a model in the artist's studio in Warsaw.
Radziszewski started to research the private archive of Kisiel in 2009. The details of the ongoing research project are exhibited in Our Heart is a Foreign Country — Friendship as an alternative in a normal world.

After the screening of the 30 minutes long film, we will talk with the artist about queer culture and artistic practices in Central-Eastern Europe in the light of the region's socialist legacy.

Karol Radziszewski lives and works in Warsaw. He is the founder, publisher and editor-in-chief of DIK Fagazine, a magazine concentrated on homosexuality and masculinity that has been in circulation since 2005. Its 8th issue titled BEFORE '89 (also on view at the exhibition) investigates homosexuality in Eastern Europe during socialist times.

Our Heart Is a Foreign Country — Friendship as an alternative in a normal world is on view until July 30 at the Studio Gallery.



Image: Ryszard Kisiel, archive photo, 1985-1986. Courtesy of Queer Archives Institute © Karol Radziszewski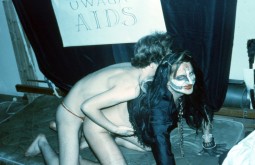 Related
Our Heart Is a Foreign Country