02/11/2007
Chto delat? / What is to be done?
free school for art theory and practice
In our block seminar, we would like to discuss how global processes of political, economic, and social normalization play out in contemporary Russia, and how these processes affect both the institutional framing of contemporary art, its practical production, and its venues for political engagement in a post-socialist situation, as a defunct centrally planned art system and a "hothouse" non-conformism are replaced by a late capitalist nexus of local and global institutions and events, increasingly geared toward a new hyperbourgeoisie and emerging middle class audiences.
After the radical privatization/particularization of political and aesthetic practices in the early to mid 1990s, the onset of normalization processes in the late 1990s/early 2000s led to some more universalizing repoliticization of contemporary art and its theoretical discourse. Chto delat sees itself as a part of this. But as neo-conservatism rode in on neo-liberalism's back in the second half of the new millenium's first decade, we have seen the onset of increasing autonomization, as new private-corporate strategies establish themselves, and artists rephrase their older, more radical practices for a "war of position" or abandon them altogether.

What are the aesthetic parameters of this situation? How do they write themselves into urban space, institutional frameworks, and "global" culture? Which potentialities can one explore? Which alternative should one choose, if one wants to continue thinking the political in art? Can one still explore and capture the uneven terrain of the post-socialist cities, finding or positing spaces for contemporary art? Which modes of aesthetic and political self-education are available? What can one actualize or preserve of socialist culture, which is rapidly disappearing? What is to be done?

We would like to join with the students in discussing the parameters of our respective post-socialist situations in a set of case studies.
David Riff
Born 1975 in London. Lives in Moscow. Critic, translator. Two books on non-conformist Soviet art from the 1960s (2000 and 2002, respectively). Since 2003, co-editor of the newspaper Chto delat/What is to be done? Numerous publications and interviews on contemporary art from Russia and abroad (Moscow Art Magazine, Flash Art, springerin and others). Countless translations of art theory and philosophy from the Russian. Founded the Karl Marx School of the English Language (Moscow) in 2005, and contributed as an artist to the 52nd Venice Biennial (Arsenale) in 2007.

Dmitry Vilensky
Born in 1964. Lives in St. Petersburg. Artist and cultural activist.In 2003 initiates the platform "Chto delat?/What is to be done?" Editor of the newspaper of the same name (also makes graphic artwork and lay-out for the newspaper – www.chtodelat.org). Works mostly in a frame work of interdisciplinary collective practices in a mediums video, photography, text, installations and social architecture, participant of many international and Russian exhibitions. He has taught in several institutions and programs in 2007, such as the Staedel Schule, Frankfurt am Main, one week seminar at Cultural Studies Program, Malmo, FRAME Finnish Fund for Art Exchange in collaboration with Art Academy, Helsinki.
Recent selected participation in exhibitions: "SOCIÉTÉ ANONYME", Le Plato, Paris, 2007, Black Square", "Space for Actualization", Hamburg, workshops of Art Moscow, Moscow, 2007, "Interrupted Histories" 2007, "Cities from Below", Teseco Foundations, Piza, Italy, 2006, "Strategies for Self-education", Center for Contemporary Art, Moscow, 2006, Moderna galerija, Ljubljana, 2006, "La Normalidad/ Ex-Argentina", Palacio Nacional de las Artes, Buenos Aires, 2006, "Capital (It Fails Us Now)", Kunstihoone, Tallinn, Estonia, 2006
Selected recent publications: Documenta 12 Magazine, Kassel, 2007, Ante 5. Russian Art in Translation, USA, 2007, "Maska" Performing Arts Journal, Winter 2007, A Conversation on Education as a Radical Social (and Aesthetic) Practice with Marta Gregorčič, Bojana Piškur, Marjetica Potrč and Dmitry Vilensky, Springerin, 02.06, Phase2, Nummer: 22/2006, Hamburg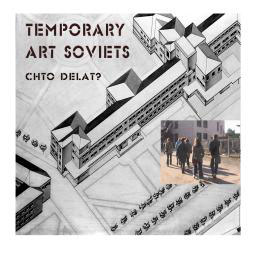 External Links
www.chtodelat.org